The Story of Us is a book about Nazi Germany's occupation of the Ukraine city of Kiev.  "The only thing Natasha Smirnova knew for a fact on the 19th of September 1941 when Hitler invaded Kiev was that life as she knew it was over."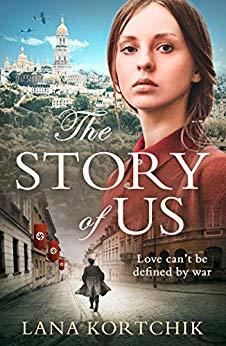 Within a short period since the arrival of Hitler's troops, Natasha was assaulted by a German officer, and her grandmother was shot in an attempt to save Natasha.  The would-be rapist soldier was killed by another solider, Mark, who was conscripted into the army in his native country of Hungary.  He helped Natasha bring her wounded grandmother home, and although he was the enemy, Natasha could not help but to find him attractive.So, when she runs into him again on the street, she strikes up a conversation with him, only to find that he may not be the enemy after all.  His philosophy was that "the issue is that [the Hungarians] are unwilling participants in a capitalist war none of [them] can identify with.  That [they] are dying for a principle [they] do not believe in."  Hitler's war is not Mark's war.
Natasha and Mark start seeing each other on a regular basis, and she finds herself falling in love with him. Seeing each other in secret, they know the dangers of discovery, but are like moths to the flame.