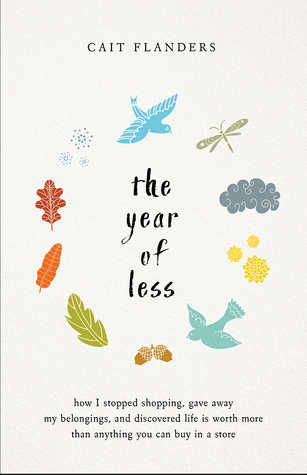 This book is a self-help memoir written (and with respect to the Audiobook, read) by the author, Cait Flanders. In The Year of Less Flanders tells the story of her road to a healthier, clutter free, fiscally smarter life. At the time when Flanders decided to have a "year of less", she was an alcoholic, shopaholic, and $30,000 in debt as a result of her addictions.
Flanders had her own blog during her "year of less" called "Blonde on a Budget", where she posted about the trial and tribulations of her experiment. At the beginning of the book, Flanders says that the book is not just a compilation of her blog posts, but rather is about personal stories she had never shared before.
These stories are about not only her struggles with the "shopping ban", but also about the recovery process from her addictions, and general stories from her life.
Even if you cannot relate to the author's addictive tendencies (I could not as an example), this book is an inspiring story about the struggles of adopting a minimalist lifestyle in a consumer driven society.
This book is only about a 5-6 hour read (on Audiobook) and is definetely worth reading this year.
Check out this book on Goodreads: The Year of Less: How I Stopped Shopping, Gave Away My Belongings, and Discovered Life Is Worth More Than Anything You Can Buy in a Store http://www.goodreads.com/book/show/35488858-the-year-of-less